Advent - Take Time to Stop and Pray
By Jay Anderson, professor emeritus of computer science at Franklin & Marshall College & member of St. Thomas Episcopal Church, Lancaster, Pa.
Two apps, developed for and at St. Thomas Church, Lancaster and the Diocese of Central Pennsylvania, are designed to help worshipers follow a discipline of regular prayer. "Stop and Pray" allows one to set four times for prayer: morning, noon, evening, and close-of-day, and to follow the short orders (Book of Common Prayer), all of Morning and Evening Prayers. "Stations at St. Thomas" allows the user to pray the Stations of the Cross, using a form from The Book of Occasional Services, or a form designed at St. Thomas for young people, or to hear the thoughts of the artist who sculpted the stations which hang in the sanctuary at St. Thomas. The app is even more effective for visitors to the church.
Each app is free, and each is available for iOS devices (iPhone, iPad) and Android devices (phones and tablets). The links "Stop and Pray" or "Stations at St. Thomas" will take you to either the Apple App Store or the Google Play store; or one can visit either store directly and search for "Stop and Pray" or "Stations at St. Thomas." The apps are continuously revised, and new versions appear once or twice a year.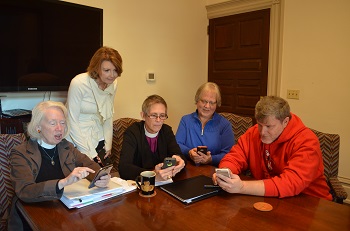 The Rt. Rev. Audrey Scanlan takes time to "Stop and Pray" while showing staff members how to access the app on their phones.
WE Are the Diocese
An Invitation to Act – from The Rt. Rev. Audrey Scanlan

...Since this fall, our eyes have been on the unending stream of refugees taking flight from their war-torn homeland of Syria and seeking safety in countries across our globe. These refugees join hundreds of thousands of others from Nepal, Iraq, Afghanistan, Somalia, the Congo and Myanmar, to name some of the other places where "home" is no longer a safe place to be.
Sweat Equity Opportunities - Just in Time for Winter
Calling all Youth Groups, Young Adult Groups and any church who has a bunch of people who like doing good deeds!!
St. Stephen's Center for Ministry, Mount Carmel
Job #1: Prep walls and paint downstairs meeting hall room for overflow Saturday Supper Guests and for a new ministry launch.
Job # 2: Paint 3-4 Apartment rooms in the apartment over the Ministry Center - rent from the apartment is needed to continue ministries downstairs.
Holy Trinity, Shamokin
Paint the Parish Hall in preparation for new ministry launch.
Please contact the Rev. Sarah L Weedon at sarahlweedon13@gmail.com or 610-316-3582 to volunteer your group.
Parish Annual Meeting Information for Diocese
Parish annual meetings are held November through April. During these meetings parish vestry members and lay delegates to the annual convention are elected.
In order for the diocesan office to best communicate with the lay persons elected, we ask that these forms be completed online using the links below. The information will be sent to Linda Arguedas at the Diocesan office.
Video Resource: Completing Your Parochial Report Online
Need help completing the parochial report online? This video is now available and is an excellent tool for anyone responsible for completing the parish parochial report.
Diocesan News and Updates
Trinity Institute Offers Sacred Conversations for Racial Justice
Where: Gettysburg Seminary
When: January 21-24, 2016

The Trinity Institute is an annual conference that takes place in New York City – but you can attend at Gettysburg Seminary or via a webcast at a Diocesan Communications Hub. Register for Gettysburg Seminary.

For more information about attending at a Diocesan Communications Hub webinar, contact Robyn Szoke-Coolidge.
Diocesan Disaster Program News Update
Recruiting for Convocation Disaster Coordinators
Do you have experience in emergency management (Fire, police, EMS, CERT)? If not, are you willing to take some free online training? The next step in building our Disaster Program in Central Pennsylvania is to build a Disaster Committee with representatives from each convocation. In addition to participating in the Disaster Committee (generally conference call meetings), Convocation Disaster Coordinators will assist in recruiting parish coordinators, coordinate convocation preparedness, response and recovery programs and assist parish coordinators to develop their local disaster and continuity of operations plans. For more information, please contact Ed Robertson, Diocesan Disaster Coordinator.

Read more and find resources at the new Disaster Program webpage.
Save the Date
Institution of The Rev. Carenda Baker as rector, Trinity, Chambersburg, Jan. 21, 7:00 p.m.
Trinity Institute: Sacred Conversations for Racial Justice, Jan. 21-24, Gettysburg Seminary
THRIVE: Eliminating Racism, Feb. 13 (location to be announced)
THRIVE: Leadership Development, Apr. 9 (location to be announced)
2016 Diocesan Convention, Oct. 14-15, 2016, Lancaster, Pa.
Remember in Your Prayers
The complete diocesan prayer list is available on the website.