THRIVE Leadership Formation Day - Aug. 13
Reimagining Faith Formation
An introduction to a formation project in partnership with the Lower Susquehanna Synod of the ELCA Aug. 13, 8:30 a.m.-3:00 p.m.
Location: St. Thomas Spiritual Center, Lancaster, Pa.
Workshops on:
Biblical Storytelling
Prison Ministry
Creating Group Adult Learning Initiatives
Formation and Leadership in a Smaller Congregation
Confirmation & How to Do it Well
Youth Ministry From the Ground Up
Episcopal Youth Event & Convention Youth Presence Info Meetings
Children's Spirituality
Implementing Change in Formation Programs Old & New
Lay Reader, Chalice Bearer & Intercessor Training
Diocesan Convention News
146th Annual Diocesan Convention




Dates: Friday, Oct. 14 and Saturday, Oct. 15
Location: The Spooky Nook Conference Center, Manheim, Pa.
Nominations are open for the following Diocesan Committees:
Standing Committee
Council of Trustees
Disciplinary Board
Deputy to General Convention
Contact Deacon Hank Morrow or Mrs. Stacey Catigano for nomination forms.
Resolutions:
Proposed Revision of Diocesan Constitution and Canons
Resolution 1: Advocacy for Food Ministry
Resolution 2: Affirmation of the Charter for Lifelong Christian Formation

Ministry Tables at Convention:
Have a parish ministry to celebrate and share? Bring it to convention and display is for all delegates and guests to see. Contact Linda Arguedas to reserve a table.
Stevenson School of Ministry Offers Summer Courses
All clergy and laity are invited to take a short, module-style course with the Stevenson School for Ministry (SSFM) this summer! Courses are a hybrid of face-to-face and online learning, providing flexibility while allowing church leadership to work together in community.
The Dynamics of the Small Church: The Prophetic Voice of the Small Church for the Wider Church Today (Instructor: The Rev. Canon Kate Harrigan)
Introduction to Adult Learning in the Church Community (Instructor: The Rev. Ingrid Andersen)
Featured Parish: St. John's, Marietta, Welcomes All!
St. John's, Marietta, is home to a program for children with special needs. The children and their families gather once a month for "We SHARE Fun Night," an evening of fellowship, friendship, and fun. Some of the children were unable to go upstairs into the Nave and Sanctuary without being carried.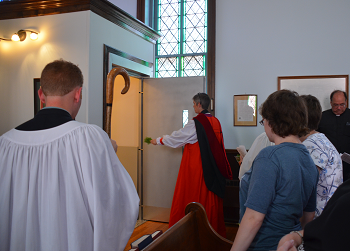 With encouragement and support from the Diocesan office, the vestry consulted with contractors and installed a vertical lift platform lift. On July 9, the lift was officially blessed by Bishop Scanlan which was followed by "We SHARE Fun Night" and dinner for all.
Diocesan News
Congratulations to The Rev. Howie Sasser of St. Paul's Episcopal Church, Bloomsburg, for being awarded a Program Grant of $2,000.00 for Protestant Campus Ministry at Bloomsburg University.

The Rev. Dr. David Zwifka has been named Priest-in-charge at St. Luke's Episcopal Church of Lebanon, Pa., Diocese of Bethlehem. David was the former Dean of the Harrisburg Convocation and Rector at St. Mark's, Lewistown. He is currently an instructor and board member for the Stevenson School for Ministry, Diocese of Central Pennsylvania.
Bishop's Open to Support Feed My Sheep Ministry
Proceeds from the golf event went to support various feeding ministries throughout the diocese: Central Pennsylvania Food Bank; The Gleaning Project-Chambersburg; Trinity-Chambersburg; The Gleaning Project-Gettysburg; Christ Church-Williamsport; St. Stephen's, Mt. Carmel; Christ Church-Coudersport; Project Share-Canstruction; St. Matthews-Sunbury and the The Gleaning Project-Lancaster.

So, practice your golf swing and Save the Date of Sept. 12, 2016 for the next Bishop's Open to be held in State College. Come out and support Feed My Sheep and spend the day on the course with Bishop Scanlan!

Vacation Bible School Time
Check out the dates and locations for a VBS near you.

Don't see your parish listed? Email Linda Arguedas with the information for posting.
Labyrinth Walk: Practicing Compassion
Join Archdeacon Jane Miron and walk the outdoor labyrinth monthly beginning on July 13 at 6:30 p.m. and unlock your compassion and forgiveness of yourself and others. Each walk will begin with a "forgiveness meditation." Take time from your busy, hectic life to enjoy a calming, centering experience.

Download the flyer for more information.
Save the Date
THRIVE Leadership Day: Reimagining Faith Formation, Aug. 13, St. Thomas, Lancaster
Bishop's Open, Sept. 12, Mountain View Golf Club, Boalsburg
Deacons' Annual Retreat, Sept. 17-18, Kenbrook Retreat Center
ECW Retreat, Sept. 30
2016 Diocesan Convention, Oct. 14-15, Spooky Nook Conference Center, Lancaster, Pa.
Remember in Your Prayers
The complete diocesan prayer list is available on the website.