Alleluia Appeal for Operation Understanding
Operation Understanding is our diocesan commitment to provide grant seed funding to a parish (or a shared ministry among parishes) for creating a new outreach ministry or enhancing an established one.
Some of the start-up ministries funded by these grants were:
Food Bank Ministry – St. Luke's, Mount Joy
Summer Program for Youth (SPY) – St. John's, Carlisle
Father Abraham's Children – St. Paul's, Manheim
OU grants are made possible through the generosity of parishes and parishioners who contribute to OU through the annual Alleluia Appeal, monetary gifts from parishes and individuals, proceeds from 'Outreach Sunday' offerings and from fundraising projects.
In the next few weeks Operation Understanding "Alleluia" envelopes will be added to your parish's Sunday bulletin… please be generous!
Download the brochure or visit the website.
Pittsburgh Theological Seminary Offers "Being Church" Conference
A "Being Church" conference will take place at the Pittsburgh Theological Seminary June 5-11.

The overall stated goal of the conference planners is to "bring together an intergenerational, inter-racial, interdenominational group of laity and pastors to consider being Church today. Featured speakers include Nadia Bolz-Weber, Rachel Held Evans, and Eric Law.
Spring Convocation Dates
All meetings will begin promptly at 6 p.m. Light refreshments.

Southern - Tuesday, Apr. 12 - St. Andrew's, York
Lancaster - Thursday, Apr. 14 - St. Edward's, Lancaster
Susquehanna - Tuesday, Apr. 19 - Christ Memorial, Danville
Northern Tier & West Branch - Tuesday, Apr. 26 - Trinity Church, Jersey Shore
Harrisburg - Thursday, Apr. 28 - Mt. Calvary, Camp Hill
Featured Parish: St. John's, Marietta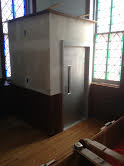 Moving Up… A Dream Come True
For several decades, the people of St. John's, Marietta, wanted access for ALL into the upper level of the building. There are several stairs to climb, outside and inside, to reach the Nave and Sanctuary. It was the dream of many that there be a way to enter the Nave and Sanctuary space without climbing the stairs.
Read how the parish achieved their dream.
Would you like to share your parish's story here in the Diocesan Digest? Contact Linda Arguedas to find out how.
Healing Service at St. Paul's, Manheim
St. Paul's, Manheim, is hosting a healing service Apr. 16 at 5:00 p.m. Download the flyer for additional information.
LGBTQI Ministry
For all members of the LGBTQI (Lesbian Gay, Bisexual, Transgender, Queer and Intersex) community in the Diocese of Central Pennsylvania and our allies who are interested in assuring that everyone has a place in the body of Christ, please join us for a very special planning meeting of LGBTQI ministry to be held on Apr. 30 from 10:00 a.m. - 2:00 p.m. at St. Paul's, Lock Haven.

Join us in discussing the current state of welcome and inclusion of our LGBTQI brothers and sisters in our parishes and surrounding communities of our diocese, current ministries that are underway, and where we see a need for this important work. Join in planning for upcoming outreach endeavors and help shape and form this ministry. Please let us know you'll be able to join us by sending a message to Kevin Barron at kevinwbarron@gmail.com no later than April 25, 2016.

For additional information, please do not hesitate to contact Father Clifford Johnson, Mother Lauri Kerr, or Kevin Barron.

We look forward to seeing as many who are able on Saturday, Apr. 30 in Lock Haven.

May God continue to bless and keep you in his care.
Godly Play Trainings Coming to Diocese
An opportunity for parents, grandparents, teachers of children and clergy, whether you are starting a new program or looking for ways to refresh your training with new stories and materials.

Visit the website for more information or to register.
Bishop's Open to Support Feed My Sheep Ministry
In June 2015 the Bishop's Open raised close to $5,000.00 in support of the Feed My Sheep Ministry.

Proceeds from the golf event went to support various feeding ministries throughout the diocese: Central Pennsylvania Food Bank; The Gleaning Project-Chambersburg; Trinity-Chambersburg; The Gleaning Project-Gettysburg; Christ Church-Williamsport; St. Stephen's, Mt. Carmel; Christ Church-Coudersport; Project Share-Canstruction; St. Matthews-Sunbury and the The Gleaning Project-Lancaster.

From Deacon Wanda: "It is with deep gratitude I approach my second year as serving and leading the ministry of Feed My Sheep. I have listened, observed and learned from those in great service in their communities. My heartfelt thanks to the Bishop's Open Committee for their support."

So, practice your golf swing and Save the Date of Sept. 21, 2016 for the next Bishop's Open to be held in State College. Come out and support Feed My Sheep and spend the day on the course with Bishop Scanlan!

Diocesan Youth Events
For a complete list of upcoming youth events, visit the website.
Save the Date
Remember in Your Prayers
The complete diocesan prayer list is available on the website.