School of Christian Studies Registration Open

The School of Christian Studies in the Diocese of Central Pennsylvania is ready to begin a new season. Guided by our Bishop Nathan and Advisory Board and chair, Canon David Lovelace, we are here to serve and equip you in your call to serve Christ in the church. As a diocesan school we are a faith community that engages in formation through online learning, cohort groups, prayer, discernment, internships, and worship.

Registration: School of Christian Studies Vocational Program

Registration: School of Christian Studies Continuing Education
Attention All Clergy and Vestry Wardens
You are invited to attend "Building a Multicultural Church."
Oct. 5, 9 a.m. - 3 p.m., St. Andrew's, Lewisburg

Led by a diverse team of seasoned facilitators and in the context of the Baptismal Covenant, participants will be guided through and discuss activities designed to raise awareness of the way "isms" function among us and how we respond to them. Visit the website for more information and to register for this event.
Operation Understanding Fall Grant Cycle
Operation Understanding is now accepting applications for the Fall grant cycle. Grant funds are available for outreach ministries that provide food, shelter, clothing, and energy assistance to people in need. Grants are given to Episcopal churches in our diocese that house or are deeply involved in these ministries.

Autumn grant funds typically range from $200 to $1,000, and priority is given to new programs. Grant applications are easily accessible on the diocesan website. The deadline for submitting applications is October 31, 2013.
LARC Day of Dialogue
"A Pastoral Approach to Interreligious Marriage"

Monday, October 28, 2013, 9 a.m.-3 p.m.
Cardinal Keeler Center
4800 Union Deposit Road
Harrisburg, PA 17111

Download the registration form here.
WE Are the Diocese...
Read about new and exciting things that make us proud to be the Episcopal Church in Central Pennsylvania.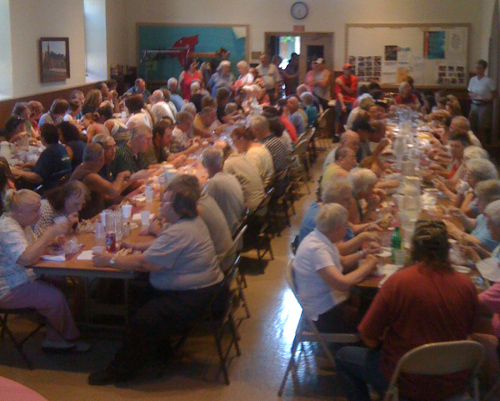 Retired Bishop Charlie McNutt recalls the beginning of Jubilee Ministry in the Diocese of Central Pennsylvania... and here we are – 30 years later, still going strong.

ECW Cape May Retreat
"Saints, Shopping & Sacred Reflections at the Seashore"
(Did I read that right??? Shopping??? Really!!!)

The ECW Retreat returns to the Marquette de Lafayette in Cape May, N.J., Sept. 27-29. Download information and a registration form here.
Dates to Remember
Sept. 18 - Celebration of Faithful Ministry for Deacon Janice Fritz, St. Andrew's, Shippensburg
Sept. 22 - Homecoming Celebration, St. Luke's, Altoona
Sept. 25 - Safeguarding God's People/Children Training, Trinity, Tyrone (contact Deacon Jack Hoffer, 814-684-3100, to register)
Sept. 28 - Deacons Day with the Bishop, St. Stephen's Cathedral, Harrisburg
Oct. 5 - Building a Multicultural Church, St. Andrew's, Lewisburg (contact David Miron for details)
Nov. 9 - Harrisburg Convocation meeting, St. Andrew's in the Valley, Harrisburg, 9:30 a.m.-12:30 p.m. (contact Deacon Pat Strohl)
Nov. 13 - West Branch & Northern Tier Convocation meeting, All Saints, Williamsport, 7 p.m., light refreshments (contact The Rev. Lauri Kerr)
Nov. 14 - Altoona Convocation meeting, Holy Trinity, Hollidaysburg, 7 p.m., light refreshments (contact The Rev. Cliff Johnston)
Remember in Your Prayers
The complete diocesan prayer list is available on the website.

As the diocese continues in this season of discernment and transition, we ask that you pray with us:

Almighty God, giver of every good gift: Look graciously on your Church, and so guide the minds of those who shall choose a bishop for this Diocese, that we may receive a faithful pastor, who will care for your people and equip us for our ministries; through Jesus Christ our Lord. Amen.