Presiding Bishop to Visit Diocese of Central Pennsylvania
Presiding Bishop of the Episcopal Church The Most Rev. Katharine Jefferts Schori will visit St. Mark's Episcopal Church, Lewistown, on Saturday, Sept. 7 to mark the 30th anniversary of the first Jubilee Ministry Center (JMC) in The Episcopal Church. Read the history of St. Mark's becoming a Jubilee Ministry and see the list of active Jubilee Ministries in the diocese.

The service celebrating the 30th anniversary of the Jubilee Ministry begins on Saturday, Sept. 7, at 2:30 p.m., and will be live streamed. The Presiding Bishop will preach. Visit the diocesan website for live streaming links and up-to-date details.

The following day, Sept. 8, St. Andrew's, State College will host the Presiding Bishop. The Presiding Bishop will preach at the Choral Eucharist at 10 a.m., and The Right Reverend Nathan Baxter, Bishop of the Diocese of Central Pennsylvania, will celebrate.

A 5 p.m. liturgy will be designed by young adults from throughout the diocese, who will join the Presiding Bishop and Bishop Baxter in leading worship.
Attention All Clergy and Vestry Wardens
You are invited to attend "Building a Multicultural Church."
Oct. 5, 9 a.m. - 3 p.m., St. Andrew's, Lewisburg

Led by a diverse team of seasoned facilitators and in the context of the Baptismal Covenant, participants will be guided through and discuss activities designed to raise awareness of the way "isms" function among us and how we respond to them. Visit the website for more information and to register for this event.
Get on Board: Diocesan Youth Events 2013-2014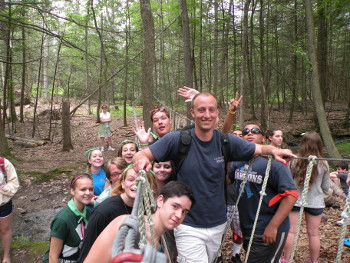 WE Are the Diocese...
Read about new and exciting things that make us proud to be the Episcopal Church in Central Pennsylvania.

Did you know that in 2009, the Diocese commissioned a well-known composer, Dr. Robert Lau, to write a hymn in honor of the visit of Presiding Bishop Katharine Jefferts Schori?

ECW Cape May Retreat
"Saints, Shopping & Sacred Reflections at the Seashore"
(Did I read that right??? Shopping??? Really!!!)

The ECW Retreat returns to the Marquette de Lafayette in Cape May, N.J., Sept. 27-29. Download information and a registration form here.
Parish Communicators and Webmasters, Unite!
Are you a parish communicator or webmaster? Would you like to collaborate with your peers around the diocese? Would you like to access resources and tips for communicating your parish's message more effectively?

Contact Lesley Carter, diocesan webmaster, to be added to an online discussion forum on the diocesan website just for you. Discussions and activities will begin in September.
Dates to Remember
Sept. 7 - Presiding Bishop celebrates Jubilee Ministry in the Diocese of Central Pennsylvania, St. Mark's, Lewistown
Sept. 8 - Presiding Bishop at St. Andrew's, State College, to join young adults in Vocare
Sept. 18 - Celebration of Faithful Ministry for Deacon Janice Fritz, St. Andrew's, Shippensburg
Sept. 22 - Homecoming Celebration, St. Luke's, Altoona
Sept. 25 - Safeguarding God's People/Children Training, Trinity, Tyrone (contact Deacon Jack Hoffer, 814-684-3100, to register)
Sept. 28 - Deacons Day with the Bishop, St. Stephen's Cathedral, Harrisburg
Oct. 5 - Building a Multicultural Church, St. Andrew's, Lewisburg (contact David Miron for details)
Nov. 9 - Harrisburg Convocation meeting, St. Andrew's in the Valley, Harrisburg, 9:30 a.m.-12:30 p.m. (contact Deacon Pat Strohl)
Nov. 14 - Altoona Convocation meeting, Holy Trinity, Hollidaysburg, 7 p.m., light refreshments (contact The Rev. Cliff Johnston)
Remember in Your Prayers
The complete diocesan prayer list is available on the website.

As the diocese continues in this season of discernment and transition, we ask that you pray with us:

Almighty God, giver of every good gift: Look graciously on your Church, and so guide the minds of those who shall choose a bishop for this Diocese, that we may receive a faithful pastor, who will care for your people and equip us for our ministries; through Jesus Christ our Lord. Amen.