Diocesan Convention 2015: Mapping the Way
The 145th Diocesan Convention will take place at the Blair County Convention Center, Altoona, with Opening Eucharist hosted by St. Luke's Episcopal Church, Altoona, Oct. 16-17, 2015
Friday evening, Oct. 16 – Keynote & discussions with Bishop Audrey Scanlan (Blair County Convention Center)
Saturday, Oct. 17 – Opening Eucharist & business session (Blair County Convention Center)

Convention Registration Is Now Open
Please note: Convention registration fee includes registration and meals. Overnight hotel accommodations need to be made separately by phoning individual hotels. Blocks of rooms are reserved at these hotels and are open until Sept. 15.
This information can be found on the diocesan website.
Convention Business Information
Diocesan Finance Information

Convention Resolutions
Review the submitted resolutions here.

Convention Reports

Review the submitted reports here.
Fall Convocation Meetings
Attention clergy and lay delegates to convention!
Fall Convocation meetings dates are as follows:
Lancaster – Sept. 16 – St. Edward's, Lancaster, 6:30 p.m.
Harrisburg & Southern – Sept. 22 - St. Andrew's, Shippensburg, 6:30 p.m.
Altoona & Susquehanna – Sept. 29, St. Andrew's, Lewisburg, 6:30 p.m.
Northern Tier & West Branch – Oct. 3 – Trinity Pro Cathedral, Williamsport – 5:00 p.m.
All lay delegates and clergy are expected to attend these meetings for briefing and discussions on the 2016 Diocesan Budget and Resolutions.
Transition Committee Updates
Ushers Needed
As we approach the consecration of our new bishop, we are seeking participation from many people around the diocese. We will need many ushers to make the service run smoothly and hospitably. The duties of the ushers will be:
Attend rehearsal on Friday, Sept. 11
Guide people to their seats and to the vesting areas as people arrive
Collect the offertory
Guide people to and from communion (each usher or pair of ushers will be assigned to an area in the Forum)
Guide people efficiently out of the Forum when the service is over
If you would like to serve as an usher, please contact The Rev. Kate Harrigan.
Deadline Reminders
The deadline to reserve room at the Harrisburg Hilton at the special rate is Aug. 11, 2015. Rooms are still available at this rate. To reserve a room use this link or call the Hilton at 717-233-6000. Ask for the Bishop Installation rate of $139.00.
The deadline for receiving your banquet reservation and check is Aug. 12. Please be sure to use the reply card to make your reservation.
Download Invitations
Follow Bishop-Elect Audrey's Blog
"Compass Points ~ Mapping the Way"

You can find the blog online here.
Workshop on the Spiritual Needs of ALL Children
Congregations are now collaborating with THRIVE to hold special interest days for mission leadership. Designed to enhance and support the local leadership these days are opportunities for congregational leadership to gather around a focus for growth in their parishes.

On Aug. 29 St. John's, Marietta, will host a special opportunity (Special Needs Ministry: Developing a Strategy for Spiritual Growth) from 10:00 a.m. to 2:00 p.m.
Presenter: Guy Legare, Vice President Behavioral Supports at Supportive Concepts for Families.

"Many Christian parents of children with special needs desire for their children to attend church school where they can receive excellent opportunities to deepen spirituality in an environment that supports the values the parents seek to instill at home. We welcome Guy Legare, as a facilitator for our deeper understanding of the ways to be present to others, in order to best serve all God's Children." ~ The Very Rev. Robyn Szoke-Coolidge

Learn more and register here.
Bishop's Open Supports Feed My Sheep Ministry
A huge THANKS to the following parishes for supporting the 2015 Bishop's Open which raised over $4,500.00 for the Feed My Sheep Diocesan Ministry.

Prince of Peace – Gettysburg (Silver Sponsor)
St. Andrew's – Lewisburg (Bronze Sponsor)
Chapel of the Good Shepherd – Hawk Run (Bronze Sponsor)
St. John's – Bellefonte (Bronze Sponsor)
St. Andrew's – State College (Hole Sponsor)
St. Thomas – Lancaster (Hole Sponsor)
St. Paul's – Columbia (Hole Sponsor)
St. Mary's – Waynesboro (Hole Sponsor)
St. Mark's – Lewistown (Hole Sponsor)
St. James – Lancaster (Hole Sponsor)
St. John the Baptist – York (Lunch Sponsor)
St. Edward's – Lancaster (Pin Flag)
All Saints – Hanover – (Pin Flag)
Trinity Pro Cathedral - Williamsport (Patron)

And thanks to the following committee members for making this event happen:

Mr. Tim Mackey - St. James, Lancaster
Mr. Jim Rogers - All Saints, Selinsgrove
Mr. Don Stanley - All Saints, Selinsgrove
Mr. John Stevenson – Prince of Peace, Gettysburg
The Rev. Dr. David Zwifka – St. Mark's, Lewistown

The Feed My Sheep ministry is intended to connect parishes throughout the diocese in the ministry of feeding those in need by supplying resources and networking opportunities. For more information to start a program in your parish or for additional resources and networking opportunities, please contact Deacon Wanda Kloza.
WE Are the Diocese...
Read about new and exciting things that make us proud to be the Episcopal Church in Central Pennsylvania.

"Heat" and Greet at the Annual RIM Picnic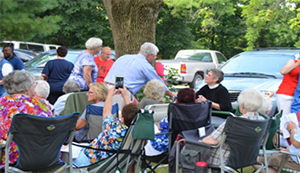 Over 110 clergy and laity turned out to brave the heat on July 19 for the annual RIM service and picnic. Bishop-Elect Audrey was one of them!
Dates to Remember
Remember in Your Prayers
The complete diocesan prayer list is available on the website.