August Is Hot With THRIVE
Join us for this exciting opportunity Aug. 16, at the Spiritual Center at St. Thomas Episcopal Church, Lancaster, Pa.

The Plenary Keynote Speaker for THRIVE is Dr. Lisa Kimball. Lisa is the Director of the Center for Ministry of Teaching, and Professor of Christian Formation and Congregational Leadership at Virginia Theological Seminary. She is particularly interested in the use of technologies and social media among young people and how that can be transformed and used in faith formation.
Watch a video with Dr. Kimball.
Bishop Gepert invites you to attend his workshop at the August 16th THRIVE.
Adult Formation for Positive Change
Adult formation in the Christian faith is about becoming.
- becoming more than we are
- becoming the person God created us to be
- becoming the instrument of God's will
- becoming the bearer of peace and harmony, and
- becoming Christ for others.

This workshop is for all adult Christian education leaders.
View workshop descriptions here.
Childcare will be available.
Feel the Energy of EYE!
The 2014 Episcopal Youth Event (EYE14) was held July 9-13 at Villanova University in suburban Philadelphia. The Diocese of Central Pennsylvania was proud to have seven youths attend EYE this year.

"EYE was an amazing experience. The speakers were very inspirational and worship was powerful. There is something incredible about worshiping with a thousand other people," said Youth Representative Emma Di Pace, St. John's, Lancaster.

"The Presiding Bishop has such a demanding, powerful presence but she is also so nice, welcoming and approachable," continued Carson Nicholas, St. Stephen's Cathedral, Harrisburg. "My most favorite moments? Every worship had the greatest music…and the dancing during the worship was unforgettable!"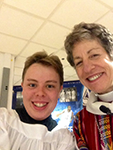 The Presiding Bishop with EYE Youth Representative Carson Nicholas, St. Stephen's Cathedral, Harrisburg.
EYE is geared for youth in grades 9-12 and their adult leaders.

Review the event here - feel the energy!

The event was held in partnership with the Episcopal Diocese of Pennsylvania.
Diocesan Youth Events
Camp BASIC (Brothers and Sisters in Christ)
Sunday, Aug. 3 to Friday, Aug. 8
Learn more here.

Youth Work Weekend
Friday, Aug. 22, to Sunday, Aug. 24
Learn more here.

Contact The Rev. Patrick Collins for more information.
WE Are the Diocese...
Read about new and exciting things that make us proud to be the Episcopal Church in Central Pennsylvania.

We are pleased to announce that Ms. Sarah Ginolfi, St. Stephen's Cathedral, Harrisburg and Ms. Carenda Baker, St. John's, Carlisle will be ordained to the deaconate on Saturday, Aug. 23 at 11 a.m. - St. Stephen's Cathedral, Harrisburg.
Historic Church Offers Summer Services
The historic church of St. Stephen in Thompsontown, Juniata County, will be home to Sunday Eucharist the first Sunday of August and September. The service begins at 9:30 a.m. Read more here.
Spiritual Center at St. Thomas Presents
The Spiritual Center at St. Thomas, Lancaster, will offer two silent meditations Sat., Aug. 2, from 9 a.m. to noon. Learn more here.
Calling All Episcopal Church Women
Cape May Retreat
19th Year Celebration
Sept. 26-28, 2014
T he Diocese of Central Pennsylvania Episcopal Churchwomen invite all women to come and celebrate our ministries as women in the Body of Christ, the Church, in Cape May, N.J. Jesus said to them, 'Come away with me. Let us go alone to a quiet place and rest for a while.' (Mark 6:31)

Download the brochure here.
Resource for Clergy, Wardens & Administrators
View the Episcopal Business Manual. You will find information such as completing Parochial Reports, conducting parish audits and budgeting process and procedures plus much, much more. This link is published in response to numerous questions concerning process and procedures. This manual will be very helpful as a resource to your parish and is also available from the diocesan website. Should you have any questions, please feel free to contact Canon Bill Graffius at 717-236-5959, ext. 107.
Dates to Remember
Aug. 16 - THRIVE, Spiritual Center at St. Thomas, Lancaster
Aug. 23 - Ordination of Deacons, St. Stephen's Cathedral, Harrisburg
Sept. 26-28 - ECW Cape May Retreat, "Healing Waters," led by The Rev. Elaine Ellis Thomas
Remember in Your Prayers

The complete diocesan prayer list is available on the website.

As the diocese continues in this season of discernment and transition, we ask that you pray with us:

Almighty God, giver of every good gift: Look graciously on your Church, and so guide the minds of those who shall choose a bishop for this Diocese, that we may receive a faithful pastor, who will care for your people and equip us for our ministries; through Jesus Christ our Lord. Amen.