Convention: A Time for Everything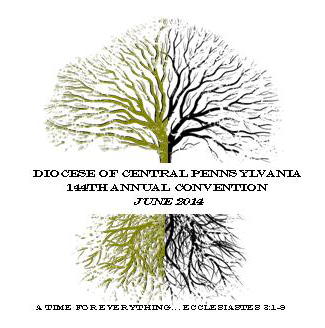 The 144th Diocesan Convention will take place at the Ramada Conference Center, State College - June 13 & 14, 2014
Convention hosts: Northern Tier and West Branch, The Rev. Janis Yskamp, Mrs. Joan Berresford, The Rev. Lauri Kerr and Mrs. Cindy McNeil, Conveners.
We welcome The Rt. Rev. Robert Gepert as Assisting Bishop. Learn more about him. Please note, Bishop Bob Gepert's new email address is: rgepert@diocesecpa.org.
Saturday, June 14 - Business session
The Eucharist and business session will be available to view live online – check the Diocesan website closer to the date for the link.
Registration Deadline Approaching
Each delegate must be certified AND registered to gain access to attend and vote. All clergy and delegates will be emailed the two-day schedule and the article "Dark Night of the Church" prior to convention.
Registration closes June 2. Register online here.
Registration fee - $90.00 (includes meals on Saturday)
Overnight lodging room fee - $83.00
Attendance for the Friday evening sessions is open to all at no cost.
THRIVE Is Alive at Convention 2014!
Join us Friday evening from 6-10 p.m. for a variety of educational sessions, starting with a presentation by Assisting Bishop Robert Gepert.
These education sessions will replace the hearings and discussions.
Pre-registration is not required.
Friday evening will end with Compline at 8 p.m., followed by a networking social. Join fellow diocesan delegates for light refreshments, fellowship and a chance to talk with Assisting Bishop Gepert.
6 p.m. The Dark Night of the Church, Bishop Robert Gepert
7 p.m. Spirituality for Leadership in the Episcopal Church, The Rev. Jonathan Currier
Benedictine Spirituality and Congregational Life: Living Out St. Benedict's Rule in the Parish, presenter TBA
Financial Growth & Planning for Congregational Life, Mr. Jim Hepfer – Mellon Bank
Diocesan Finance Information
Download the following finance documents:
Reports, Nominees and Resolutions
Diocesan Annual Reports
Review the annual reports here.

Annual Meeting Information for Parishes
Please note: Changes to vestry leadership and election of convention delegates' information need to be on file in the diocesan office. Please use these forms to submit updated information.

Nominations for Diocesan Committees and Delegates to General Convention
The nominees for diocesan committees and delegates to General Convention 2015 are now listed on the website.

Convention Resolutions
This year, there are two resolutions for convention. View them here and here.
Add to the Convention Photo Gallery
We will feature a photo gallery during Convention of special events and ministries that have occurred during the past year. Did your parish do something really cool? Did you start a new ministry, or reach out to your community in a special way? Share that with the rest of the diocese - send one picture (hard copy), along with a short paragraph describing the event or ministry, to:

Linda Arguedas
Canon for Communications
Diocese of Central Pennsylvania
P.O. Box 11937
Harrisburg, PA 17108

Deadline: May 29, 2014

Ministry Tables at Convention
Please visit the following ministry tables during Diocesan Convention:
Diocesan Vergers
Stevenson School for Ministry
Children, Youth and Young Adults
Daughters of the King
Episcopal Church Women
United Thank Offering
Operation Understanding
The Spiritual Center at St. Thomas
Integrity
Education for Ministry
Church Periodical Club
Attention Clergy – Trevor Floyd will be there with clergy clothing, etc.
Dates to Remember
Remember in Your Prayers
The Rev. Susan Claytor, rector, All Saints, Hershey, who is recovering at home.

Sandy Strohl, wife of Deacon Pat Strohl, who is recovering from a recent knee replacement.
Deacon Janice Fritz, as she continues her cancer treatments.

The complete diocesan prayer list is available on the website.

As the diocese continues in this season of discernment and transition, we ask that you pray with us:

Almighty God, giver of every good gift: Look graciously on your Church, and so guide the minds of those who shall choose a bishop for this Diocese, that we may receive a faithful pastor, who will care for your people and equip us for our ministries; through Jesus Christ our Lord. Amen.