Convention: A Time for Everything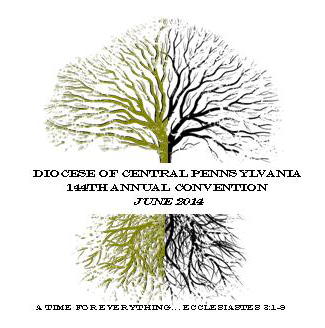 The 144th Diocesan Convention will take place at the Ramada Conference Center, State College - June 13 & 14, 2014
Convention hosts: Northern Tier and West Branch, The Rev. Janis Yskamp, Mrs. Joan Berrsford, The Rev. Lauri Kerr and Mrs. Cindy McNeil, Conveners.
THRIVE is ALIVE at Convention 2014!
Join us Friday evening from 6-9 p.m. for a variety of educational sessions, starting with a presentation by Assisting Bishop Robert Gepert. (More info will be available in upcoming Digests AND at your upcoming convocation meeting.) These education sessions will replace the hearings and discussions. Information on resolutions, nominations, and the diocesan budget will be presented during the spring Convocation meetings.
We welcome The Rt. Rev. Robert Gepert as Assisting Bishop. Learn more about him.
Saturday, June 14 - Business session

Convention Registration Is Now Open

Diocesan Finance Information
Download the following finance documents:

Diocesan Annual Reports
Review the annual reports here.

Annual Meeting Information for Parishes
Please note: Changes to vestry leadership and election of convention delegates' information need to be on file in the diocesan office. Please use these forms to submit updated information.

Diocesan Annual Reports
Review the annual reports here.

Nominations for Diocesan Committees and Delegates to General Convention
The nominees for diocesan committees and delegates to General Convention 2015 are now listed on the website.

Convention Resolutions
This year, there are two resolutions for convention. View them here and here.
Spring Convocation Meetings
Clergy and elected delegates to convention are strongly encouraged to attend the upcoming Convocation meetings for briefings on:
Resolutions
Nominations to diocesan committees and General Convention 2015
Diocesan budget
Spring convocation dates are as follows:
Northern Tier & West Branch - April 28, 6 p.m., St. James, Mansfield
Altoona - May 1, dinner 6 p.m., meeting 7 p.m., St. Mark's, Lewistown
Lancaster - May 7, meeting with light refreshments 7 p.m., St. Thomas, Lancaster
Susquehanna - May 8, dinner 6 p.m., meeting 7 p.m., Christ Church, Berwick
Harrisburg - May 10, 10 a.m.-1 p.m., St. John's, Carlisle
Southern - May 15, 6 p.m., Church of the Transfiguration, Blue Summit
Celebration of Ministry: Bishop Nathan Baxter and Mary Ellen Baxter
Saturday, May 3, 11 a.m.
St. Stephen's Cathedral, Harrisburg

On May 3, 2014, there will be a very special Celebration of Ministry to honor Bishop Nathan Baxter and Mary Ellen Baxter. The service will be held at The Cathedral Church of St. Stephen's, Harrisburg. Read more here.
Province III Small Church Conference
May 12-15
Shrine Mont Conference Center
Orkney Springs, Va.

Envisioning a Bright Future: Empowering the Small Church

The Small Church Conference is a bi-annual conference hosted by the Province 3 Small Church committee, and will be held May 12 – 15, 2014, again at Shrine Mont, Orkney Springs, Virginia. The theme for 2014 is, "Envisioning A Bright Future: Empowering the Small Church." Dent Davidson will once again be our keynote speaker, and he will be joined by Phyllis Tickle. As Phyllis is in the process of retiring from accepting speaking engagements, this will be one of the last opportunities to spend time with her at Shrine Mont!

Other presenters are Dr. Barbara Anne Fisher, Sister Cassandra Grace, and the Rev. Kathy Gray. For a full description of the presentations, please refer to the conference brochure. The information on how to register is on the registration form.
Hope & Connection: A Suicide Awareness and Prevention Presentation Workshop
May 6-7
Church of the Apostles
1850 Marietta Ave.
Lancaster, Pa.
Register now for Hope and Connection: A Suicide Awareness and Prevention Presentation and Workshop to help make our communities places where people can share their pain and suffering and get help. The presentation and workshop will provide an opportunity to 1) take an honest and open look at a very common human situation and 2) develop practical prevention activities that can be incorporated into daily ministry. Download the flyer for details.
WE Are the Diocese...
Read about new and exciting things that make us proud to be the Episcopal Church in Central Pennsylvania.

Benedictine Spirituality for the Frazzled: A Retreat
April 25-26
St. Andrew's, State College

Everyone Welcome!!

Come join the Diocesan Daughters of the King for a special retreat. The Rev. Dr. Jane Tomaine, author of "St. Benedict's Toolbox," will lead us in an exploration of the 6th century Rule of St. Benedict. Read more here.
Dates to Remember
Apr. 15 - Renewal of Vows, St. Stephen's Cathedral, Harrisburg
Apr. 28 - Northern Tier & West Branch Convocation Meeting
May 1 - Altoona Spring Convocation Meeting
May 7 - Lancaster Spring Convocation Meeting
May 8 - Susquehanna Spring Convocation Meeting
May 10 - Harrisburg Spring Convocation Meeting
May 15 - Southern Spring Convocation Meeting
May 31 - Ordination of Deacons, St. Stephen's Cathedral, Harrisburg
June 13-14 - Diocesan Convention
June 23 - Bishop's Cup Golf Tournament, Tanglewood Golf Course, Southern Lancaster
Remember in Your Prayers
The complete diocesan prayer list is available on the website.

Ms. Hilda Jean Law, parishioner at St. Luke's, Mechanicsburg, and a past president of the Diocesan ECW, passed away on Apr. 10. Please also pray for her husband, Joseph, and their family at this difficult time.

As the diocese continues in this season of discernment and transition, we ask that you pray with us:

Almighty God, giver of every good gift: Look graciously on your Church, and so guide the minds of those who shall choose a bishop for this Diocese, that we may receive a faithful pastor, who will care for your people and equip us for our ministries; through Jesus Christ our Lord. Amen.