Convention: A Time for Everything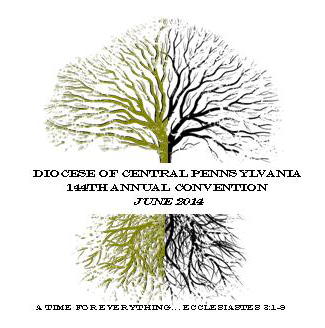 The 144th Diocesan Convention will take place at the Ramada Conference Center, State College - June 13 & 14, 2014
Convention hosts: Northern Tier and West Branch, The Rev. Janis Yskamp, Mrs. Joan Berrsford, The Rev. Lauri Kerr and Mrs. Cindy McNeil, Conveners.
Friday evening, June 13 - Briefings and discussions
Saturday, June 14 - Business session
Registration will open online March 10.

Annual Meeting Information for Parishes
Please note: Changes to vestry leadership and election of convention delegates' information need to be on file in the diocesan office. Please use these forms to submit updated information.
Spring Convocation Meetings
Attention clergy and lay delegates - Spring Convocation dates are as follows:
Harrisburg - May 10, 10 a.m.-1 p.m., location TBA
Altoona - May 1, dinner 6 p.m., meeting 7 p.m., St. Mark's, Lewistown
Susquehanna - May 8, dinner 6 p.m., meeting 7 p.m., Christ Church, Berwick
Lancaster - TBA
Southern - TBA
Northern Tier - TBA
West Branch - TBA
Diocesan Anti-Racism Program
Seeing the Face of God in Each Other… will take place March 7-8 at the St. Cyril Academy Education & Spiritual Center, Danville, Pa.
This program will be preceded by an Ash Wednesday activity to be completed in participant's home parishes. For additional information please contact Canon Greg Hinton.

Register here online.

Deadline to register is March 3.
Diocesan Youth Events
Two diocesan youth events are currently open for registration:
Middle School Lenten Retreat, March 14-16, Camp Mt. Luther

Province III Youth Event, March 14-16, North Bay Adventure Camp
Diocesan Training Day - THRIVE
Saturday, March 22
St. Luke's, Altoona

"Leading Through Change" - Keynote speaker: Ray Wells, Wellbeing Systems

Workshops for everyone, clergy and lay:
Leading Through Change - Identification of Your Change Agenda with Introduction to Uses for Appreciative Inquiry
LEV Training
Pastoral Worship Training
Parish Administration
Financial Development
Communications
How Episcopalians Read Scripture
Ministries of Healing and Pastoral Visitation
Download the flyer or review the schedule and list of workshops.

WE Are the Diocese...
Read about new and exciting things that make us proud to be the Episcopal Church in Central Pennsylvania.

We are pleased to announce that The Rev. Clifford Johnston will be installed as part-time rector at Good Shepherd, Hawk Run on Saturday, March 8. Cliff was appointed the priest-in-charge of Good Shepherd by Bishop Nathan Baxter in January 2008. The Rev. Johnston is also co-convener of the Altoona Convocation.

Bart Ehrman to Speak in Carlisle
Bart Ehrman, professor, University of North Carolina at Chapel Hill, wlll present the Mary Ellen Borges Memorial Lecture on Tuesday, February 25, at the ATS (Anita Tuvin Schlechter) Auditorium at Dickinson College, Carlisle, 7 p.m.

Biblical scholars have long recognized the discrepancies between the four New Testament Gospels and the difficulties that result in determining who Jesus really was. Can these four Gospels be relied upon to give us an accurate account of Jesus's words and deeds? This event is sponsored by St. John's Episcopal Church on the Square and The Clarke Forum for Contemporary Issues at Dickinson College.

Dates to Remember
Mar. 1 - Ordination of Priests, St. Stephen's Cathedral, Harrisburg
Mar. 7-8 - Seeing the Face of God in Each Other Anti-Racism Training, St. Cyril Retreat Center, Danville
Mar. 14-16 - Middle School Lenten Retreat, Camp Mt. Luther
Mar. 22 - Diocesan Training Day, St. Luke's, Altoona
Apr. 12 - Wardens and Vestry Leaders Conference, St. Andrew's, Lewisburg
Apr. 15 - Renewal of Vows, St. Stephen's Cathedral, Harrisburg
May 1 - Altoona Spring Convocation Meeting
May 8 - Susquehanna Spring Convocation Meeting
May 10 - Harrisburg Spring Convocation Meeting
May 31 - Ordination of Deacons, St. Stephen's Cathedral, Harrisburg
June 13-14 - Diocesan Convention
June 23 - Bishop's Cup Golf Tournament, Tanglewood Golf Course, Southern Lancaster
Remember in Your Prayers
Mrs. Janet Currier, mother of The Rev. Jonathan Currier, passed away on Feb. 4. Please remember Fr. Jonathan and his family at this difficult time.

Ken Suter, partner of The Rev. David Zwifka, is undergoing surgery this week.

Our friends at Edwardes College in Pakistan (especially their president, Canon Titus Presler, Honorary Canon of St. Stephen's Cathedral), who are experiencing serious trials at this time.

The complete diocesan prayer list is available on the website.

As the diocese continues in this season of discernment and transition, we ask that you pray with us:

Almighty God, giver of every good gift: Look graciously on your Church, and so guide the minds of those who shall choose a bishop for this Diocese, that we may receive a faithful pastor, who will care for your people and equip us for our ministries; through Jesus Christ our Lord. Amen.