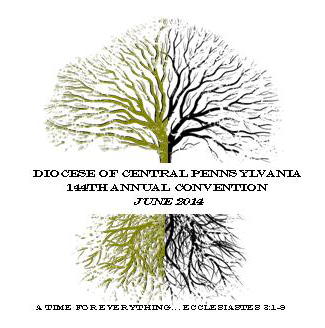 The 144th Diocesan Convention will take place at the Ramada Conference Center, State College - June 13 & 14, 2014
Convention hosts: Northern Tier and West Branch, The Rev. Janis Yskamp, Mrs. Joan Berrsford, The Rev. Lauri Kerr and Mrs. Cindy McNeil, Conveners.
Friday evening, June 13 - Briefings and discussions
Saturday, June 14 - Business session
Registration will open online March 1.

Nominations
Nominations for the following diocesan committee positions are now open:
Standing Committee - 2 Clergy, 2 Lay
Council of Trustees - 1 Clergy, 1 Lay
Disciplinary Board - 2 Clergy, 1 Lay
Please contact The Rev. Jennifer Looker. Step forward to serve your diocese!

Convention Resolutions Due
Convention resolutions, proofed and formatted, are due to The Rev. Veronica Chappell by February 15.

General Convention 2015
Attention clergy and lay persons interested in attending General Convention: Plans are well underway for the Episcopal Church's General Convention in 2015, and the triennial event won't be business as usual.
The 78th General Convention of The Episcopal Church will be held June 25 – July 3, 2015 at the Salt Palace Convention Center in Salt Lake City, Ut. (Diocese of Utah).
Please submit your name to The Rev. Jennifer Looker if you wish to be a delegate to General Convention 2015. You will also need to submit a picture and a short bio.

Annual Meeting Information for Parishes
Please note: Changes to vestry leadership and election of convention delegates' information need to be on file in the diocesan office. Please use these forms to submit updated information.